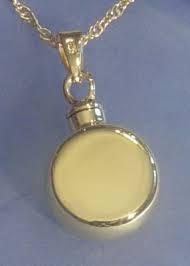 Product Description
Brass Cremation Jewelry
One of the most popular metals used in the jewelry industry brass is also a popular choice with cremation jewelry. The soft tones of the jewelry give it an understated appeal to men and women alike. Used in a wide variety of industries, brass is durable and versatile and one of our most beautiful alloys.
What is brass?
Brass is an alloy that is a combination of copper and zinc. Brass displays different properties based off of the amount of zinc and copper that is used. The color of brass changes depending on how much zinc it contains. The higher the zinc proportion the lighter the color of brass.
Ways in which brass is used:
Decoration. Brass has a bright gold appearance which makes it ideal for such decorations around the house like plumbing and electrical fixture, doorknobs and even pots and pans. You'll also see brass accents on mirrors and flower urns and other decorative art pieces in the home.
Musical instruments. Brass is used for many musical instruments because of its ability to produce sound through vibration. Trombones, musical horns and tambourines are some examples of musical instruments that contain brass or are made primarily of brass.
Ships and marine environments. With added additions of tin, iron or aluminum, brass has good corrosion resistance. This makes it a great choice for ship bottoms or other marine areas where seawater can damage metals. Navy sailors are said to have belt buckles made of brass because when scratched the brass will not produce a spark.
Known for its golden yellow color, brass is commonplace in many industries. An alloy of copper an zinc, brass is used in jewelry, decoration around the home and in musical instruments. Appealing to men and women alike, brass affords the rich look of gold without the higher price making it an affordable and versatile.
Other Products in 'Cremation Jewelry For Loved Ones' category
OTTO INTERNATIONAL
31/A-13, Mohd Ali Road, Opp. Takhat Wali Masjid, Moradabad - 244001, Uttar Pradesh, India
Phone :+918035948560
Mr. Mohammed Alam (Proprietor)
Mobile :918035948560